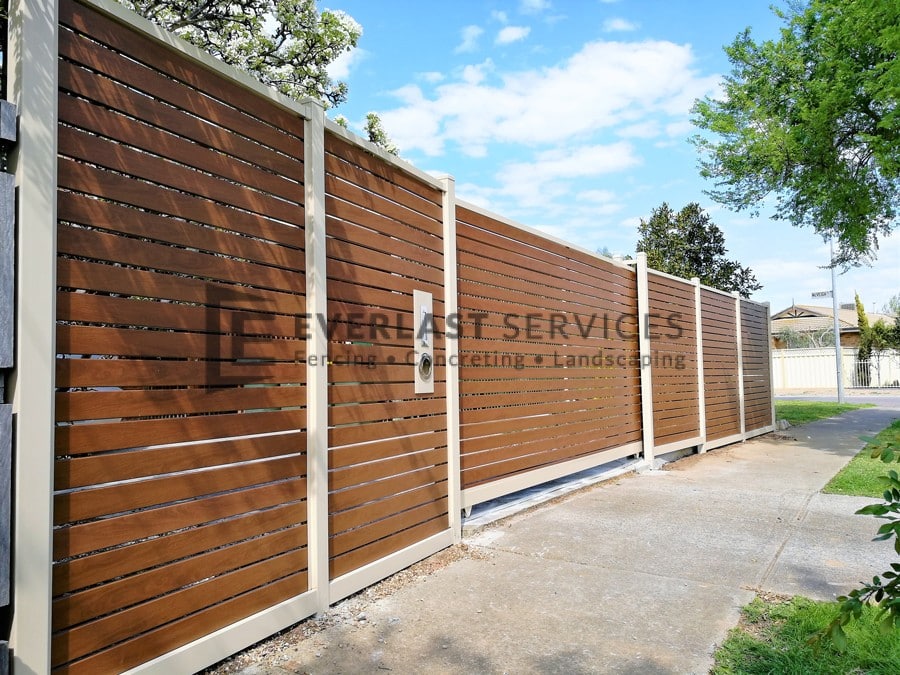 Aluminium slats fencing offers the latest in architectural style, with clean, modern lines and a sharp finish that are sure to improve the aesthetics, and value, of any type of building.
Everlast's aluminium slats fence panels, aluminium picket fencing, aluminium square hollow sections and aluminium art decor fencing not only offer the latest styles; they are one of the most versatile fencing materials on the market. Our metal slats can be installed vertically or horizontally, using any size spacing between each of the fence slats, to create a polished look that is entirely unique to your property. Best of all, it's tough, long lasting, low maintenance, and can be used in a wide variety of applications, from pool fencing and front fences, to driveway gates and even large fencing areas for modern office buildings.
Why Use Aluminium Slats Fencing?
Don't require any special cleaning. A quick hose down, and they look as good as new.
Won't fade, warp or dry out in the sun. So, you can be sure that your fence will look just as good in ten years time, as on the day it was installed. And, best of all, you won't have to repaint your fence every year.
Given its tough, durable finish, it's perfect for use in climates that experience both extreme wet and cold. In fact, aluminium does not splinter or crack, making it just about the perfect construction material for Melbourne's cold, wet winters.
It lasts much longer than wooden fences, particularly given that it is not as susceptible to damage caused by insects such as termites, or elements such as rain, mould and mildew.
Aluminium Slats Fencing Sizes
We stock a range of sizes, among our most popular are the 90 x 16 and 75 x 16 size. Here's an idea of what you can achieve with them:
90 x 16 Aluminium Slats: This size is perfect for privacy screens. We also love using them for swing and sliding gates and they are great for fencing. They're very popular for use as window hoods and they provide excellent protection from sun, wind and rain.
75 x 16 Aluminium Slats: This is our favourite size for fencing. They're perfect because they are sleek but wide enough to provide the security and privacy that our customers need from their fence. We pair this size with rendered brick to create a striking aesthetic and really amp up the curbside appeal of our customer's houses.
Why Choose Everlast?
Everlast manufactures aluminium slats fencing and aluminium picket fencing at its state-of-the-art factory in Hoppers Crossing, Melbourne. That means we are 100% certain of its quality, strength and durability. This also means that all of our metal fencing supplies and materials are Australian made and owned; you're helping the local economy by buying from Everlast.
We are committed to delivering the best possible product and service at a completely affordable price.
With over 20 years in the industry, we really do know everything about aluminium fencing in Melbourne. We really are experts. So, why not let the experts apply our expertise to your next fencing projects. We're certain that we'll deliver a result guaranteed to exceed your expectations.
While we are specialist Melbourne fencing contractors, we are also a steel fabricator and steel wholesaler. So, if you'd rather build your fence all on your own, then we can simply supply the materials that you'll need. No job is too big (or too small) for Everlast Services (formerly known as Everlast Fencing).
Contact Everlast Services in Melbourne Today
If you need aluminium slat fencing in Melbourne, then contact the dedicated team at Everlast today: